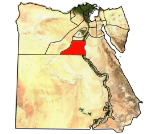 In 2014, CAWU began the project of sponsoring the village of Qufādah in Upper Egypt. Here at CAWU we have had close relations with spiritual leaders in the village since contact was formally established between the village and CAWU in 2010. Qufādah village is itself located between two locations of the Route of the Holy Family, Ishnīn al-Nasará and Dayr al-Jarnūs in the district of Maghagha, governorate of Minya.
Qufādah has been used by CAWU to demonstrate how dialogue leads to improved inter-faith and cultural relations due to the excellent inter-communal relations in the village. The population of the village were highlighted in a
lecture to the European Parliament
by CAWU board member Cornelis Hulsman when speaking on inter-communal relations in Egypt. 
Qufādah Micro-Finance Project
 
To help the local community generate sustainable income, various projects have been set up by the Coptic community leader, Father Yu'annis in coalition with the Salafi Shaykh Hamdi.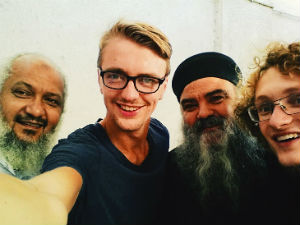 Sheikh Hamdi, CAWU Intern Jonathan Vink, Abūna Yu'annis, Intern Rene Witterveen
The aim of these projects is to become financially self-sustainable through the use of initial investments through a micro-finance system, instead of one-time donations. Projects include for example a barbershop, a kindergarten and a electronics shop, serving the community on a wide range of daily necessities. 
Another aim of this project is to cut across the religious divided. The Qufādah community is remarkable for having warm relations between Muslims and Christians, and so the program will be directed and executed by Christians and Muslims in tandem. 
A village project group will specify and monitor the programs, and villagers of both religions will be hired to conduct and implement the programs. 
Also, the project hopes to halt the emigration of men from the village, as men normally seeking employment elsewhere are given an opportunity to work in the village, and thus remain with their families. 
Ultimately, this project hopes to strengthen the village's economic and well social fabric, while promoting interfaith relationships and dialogue. 
The initial amount of finance required per program varies, although it will hover around £10,000 EGP on average.          
Current Progress
Abūna Yu'annis in cooperation with CAWU Board Member and Founder of the NGO Emarat al-Insan, which focuses on providing affordable housing in Cairo, Eng. Nagwa Raouf, is currently in the process of setting up a sustainable micro-finance system in Qufādah, which will allow repaid loans to return to the village fund and facilitate further investment in local projects. 
On September 13, 2014, CAWU organised a field trip to Qufadah with three donors to attend a village meeting wherein a number of villagers came forth to propose ideas for household and larger businesses.
Proposed Projects
Below you will find a report and pictures of CAWU's visit to Qufadah on September 13, 2014 and some information of proposed projects. 
Projects will be subject to a vetting process and prioritized by feasibility and cost. For example, a proposal to start a fruit stall, will require the initial cost of the cart and fruit, however, the likelihood of a return is small. Because of this, the request for a sewing machine will, for example, be prioritized as the sewing machine is likely to produce more and less likely to produce waste products.